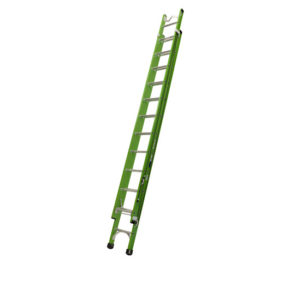 PROFESSIONAL PUNCHLOCK FSXN WITH VEE RUNG
Ideal for the tradesperson or serious DIY requiring the benefits of an extension ladder offering versatility, strength and stability.
Featuring sturdy, Electro – Safe™ construction, this extension ladder offers resistance to twist and sway when working at heights.
Industrial Duty Rated. Designed for use on industrial work sites
130kg load rating on sizes 8, 10, 12, 13 and 14
125kg load rating on sizes 16
Strong fibreglass construction resists sway, turn and flex
Electro – Safe™ (non-conductive)
Fitted with pole support 'Vee' Bracket
Flat 'D' shaped rungs for secure footing
Side pulley and rope extension system keep rope away from the user's feet
Rubber "Boots" with reinforcing plate for extra safety and protection of the fibreglass stiles
Made to Australian and New Zealand Standards AS/NZS 1892.3
INDALEX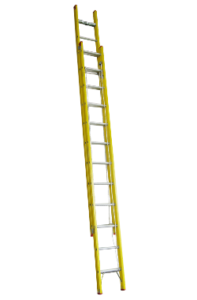 TRDXF
Industrial Fibreglass Extension Ladder
Durable lightweight design uses robust fibreglass side rails and structural grade aluminium rungs, to provide greater strength.
These ladders are designed to be used where an electrical hazard might exist so as to offer greater protection for the user.
All aluminium components have been anodized for better corrosion resistance and lower retention of dirt and grime.
Anti slip moulded rubber feet for added safety.
Lightweight for easy movement and operation.
Fully automatic latching system ensures that upper section will not descent out of control.
The rungs utilize a 3-piece rung joint system for attachment to the side rails such that they can be manufactured from high tensile and hardened aluminium for greater strength and durability.
V-bracket with rubber pad for use of ladder against a pole.
A 3-year warranty for faulty materials or workmanship is provided, enhanced by a
10 year warranty for all structural aluminium components.