INDALEX
 
PROS DURABLE HEAVY DUTY INDUSTRIAL
SINGLE SIDED ALUMINIUM LADDER
These robust heavy duty ladders have been designed to last and incorporate the best methods of joining the industrial grade aluminium structural components so that the ladder can withstand repeated use without the joints loosening.
The steps are fastened to the side rails with solid aluminium rivets.
The rear section utilizes a 3-piece rung joint system.
All aluminium components have been anodized for better corrosion resistance and lower retention of dirt and grime.
Extra strong spreader bars and foot covers have been used to enhance the life of the ladder.
A blue copolymer tool tray top with paint can hook, to organize your tools, has been included for the single sided step ladder.
A lifetime warranty for faulty materials or workmanship is provided.
BAILEY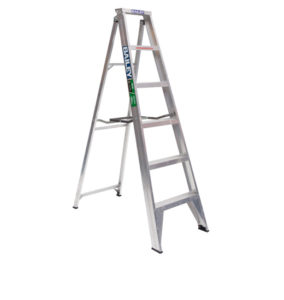 SINGLE SIDED STEPLADDER 150KG
Ideal for the tradesperson or serious DIY requiring a Single Sided Stepladder offering strength and stability.
The Trade range of Single Sided Stepladders are lightweight and feature Bailey's patented "Quicklock®" internal arm system which provides extra stability and resistance to ladder-walk.
Riveted construction
Industrial Duty Rated. Designed for use on industrial work sites where strength, durability and safety is required
150kg load rating
Heavy duty extruded aluminium construction with bracing
Internal arm system provides extra stability and resistance to ladder-walk
Anti-slip feet for maximum grip on any surface for added safety and stability
Made to Australian and New Zealand Standards AS/NZS 1892.1